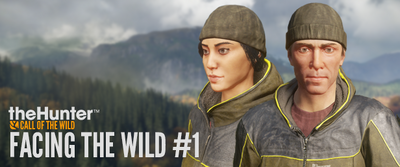 The Facing the Wild 1 is a free DLC that was released on April 18, 2017. This DLC is downloaded separately on Steam but is packaged into the base game on console. This DLC adds player customization and extra animal variations. Player customization includes gender and faces. Animal variations are found on the two maps, Hirschfelden Hunting Reserve, and Layton Lake District. These variations offer different colors and patterns on various wildlife.
Description
[
]
As Doc likes to say, there are as many opinions on the perfect hunting experience as there are hunters. Making your own decisions and personalizing your hunt is what it's all about. That's why, in this character customization DLC, we have added new options to give you more diversity and more choice when it comes to creating your hunter. But it's not just the characters that get a 'facelift' - there are also new fur variations for all animals in both reserves.
New Character Faces
[
]
In the "Facing the Wild #1" DLC you will be able to choose between three new facial variations when creating your character. Male and female options will be available.
Customize Your Hunter
[
]
You will also be able to change your character's physical appearance at any point in-game using the Character tab in the Store. However, doing so will come at an in-game cost.
Animal Variation
[
]
The wildlife in our reserves is always evolving. Open season is upon us, and hunters have reported seeing two new fur variations for each one of the animal species in the Hirschfelden Hunting Reserve and Layton Lake District.
If you are looking to get a fresh challenge and a new trophy, then look no further - you can now spot patterns, colors, brightness, contrast and intensities on all species' furs.
So grab your gear and get going - it's time to spot those fur variations and bag some trophies!
Media
[
]
Trivia
[
]
While the marketing name for this DLC is "Facing the Wild #1", all references in-game and on Steam refer to the DLC as "Facing the Wild 1".