The Layton Lake District is located at the Pacific Northwest of North America. The warden of the Reserve is Colton "Doc" Locke.
Location
​​​​
Regions
Huntable Animals
| Class | 1 | 2 | 3 | 4 | 5 | 6 | 7 | 8 | 9 |
| --- | --- | --- | --- | --- | --- | --- | --- | --- | --- |
| Animals | | | // | | // | // | | | // |
Missions
Main article: Layton Lake District Missions
Missions on the Layton Lake District are provided by the reserve warden Colton Locke. Currently, the reserve has 95 missions: 25 main missions and 70 side missions.
Trailer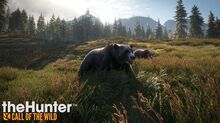 Transcript: "The perfect hunting experience... Well there is just many about opinions on that as there are hunters. Some loves the beech forests and farmlands of a place like Hirschfelden... But me, I prefer a different kind of Wild. Where snow covered peaks surrounds valleys several miles wide. That is Layton Lakes District, the best hunting reserve you'll find in a hundred miles. Whether doing tasks for the locals or just hunting deer for your hearts content, you're free to explore this Pacific-Northwest Reserve however you want. You may find your favorite hunting spot around a large valley lake or deep inside a dense spruce forest. Layton Lakes District is home some of the most majestic animals in the wild like the Moose, the Black Bear and the mighty Roosevelt Elk. Bagging one of these will required a combination of the right equipment, skillful tracking and stalking so you can get close enough for a clean shot. Few things beat hunting together with a group of friends though, everyone can bring their own skills and hunting equipment and play a part in finding an downed and that big one. In the end, how, what and where you wanna hunt is all up to you and a truely immersive next generation hunting experience awaits!"
Patches
Patch 1.39
Fixed issue with duck caller failing to attract mallards in Layton Lake.
Patch 1.35
Stability fixes to Layton Lake District.
Patch 1.24
Seaside environments mix improved in Layton Lake.
New Species : Mallard Duck.
Patch 1.19
Improved environment sound mix for Hirschfelden and Layton Lake.
New species : White-tailed Jackrabbit.
Patch 1.18
Environment sound mix improvement for Hirschfelden and Layton Lake. The wind loudness has been tweaked to better reflect the in-game wind strength.
Patch 1.17
Added interiors to Lookout towers in Layton Lake.
Added interiors to the old church in Layton Lake.
Updated spawn- and need-zone maps for animals in Hirschfelden and Layton Lake.
Updated the terrain near Mount Kraken.
Updated the terrain near Mount Leviathan.
Updated the terrain near Roonachee.
Added new outpost to Layton Lake - Balmont Railroad Outpost.
Default selection of starting reserve has been changed to Layton Lake.
All Outposts now feature interiors that can be entered to rest.
Patch 1.14
Default track colors on Layton Lake District get set correctly now.
Patch 1.8
Fixed animal exploit near lake Kraken.
7 additional outposts have been added to Layton Lake (will appear revealed on the map if closest lookout tower has been claimed).
Patch 1.1
Collision fixes in Layton Lake District.
Adjusted how easily animals can hear you when walking through grass and bushes in Layton Lake District
Adjusted vegetation sound volumes in Layton Lake District.
Trivia
Slideshow