The Archery Range is found in Parque Fernando. It is a shooting range specifically designed for archery target practice. However, weapons of all kinds can be used here. In contrast to the Hirschfelden shooting range, it is not a fast-travel point, is not marked on the map and does not have an equipment cache; it is however placed right next to the Casita de Martita, which is a special lodge-like outpost in Parque Fernando. Outpost and archery range are located in the Tierra Vargas region (Prados De Lupinos subregion).
Using the Range
Edit
When practicing on the shooting range, one has unlimited ammunition free of charge, and does not have to reload the weapon.
The shooting range has three different shooting platforms (Archery Platform, Hunting Blind, Elevated Blind) and seven targets at fixed different distances and with different sizes (with the largest being the size of the targets at the Hirschfelden shooting range):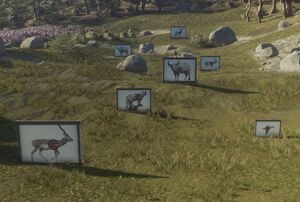 | Distance | Size |
| --- | --- |
| 15 m | medium |
| 20 m | small |
| 25 m | medium |
| 35 m | large |
| 50 m | medium |
| 70 m | large |
| 100 m | medium-large |
Location
Edit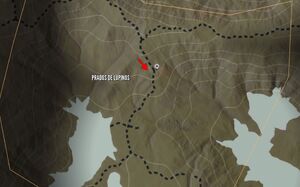 The archery range is located in Prados De Lupinos (a subregion of Tierra Vargas) close to where the player initially arrives in the reserve.
Community content is available under
CC-BY-SA
unless otherwise noted.