Nestled at the foot of the Southern Alps, Te Awaroa National Park is home to the diverse biomes of New Zealand's South Island. Sika Deer roam the lush, temperate beech forests of the west, while Red Deer and Fallow Deer are found in the hillsides of the east. Further up, Chamois and Feral Goat play atop alpine ridges. Te Awaroa is also home to Feral Pig, the European Rabbit and Turkey. Trace the trails of history, from the first Polynesian settlers to the hardy helicopters hunters who took on a great personal risk to preserve the reserve's unique biodiversity, or just stop and take in the magic with landscapes that have inspired countless fantasy worlds.
The Te Awaroa National Park is an reserve in the Hunter: Call of the Wild that got released on December 10th 2020 on PC. And was later released on console in early 2021.
Location
[
]
Te Awaroa National Park is located in New Zealand.
​​​​​
Regions
[
]
Stonecastle [North-West of the map]
Tarahores Range [Middle-Up of the map]
Waikarera River [South-West of the map]
Wakaiti [South-East of the map]
Taumata [East of the map]

Huntable Animals
[
]
| Class | 1 | 2 | 3 | 4 | 5 | 6 | 7 | 8 | 9 |
| --- | --- | --- | --- | --- | --- | --- | --- | --- | --- |
| Animals | | // | | | // | | // | // | // |
New Weapons [Coming with the Te Awaroa Reserve]
[
]
F. L. Sporter .303 Polymer [40 000 $]
F. L. Sporter .303 Laminated [Locked] [Received for free when completing mission: A Favor For A Friend] [40 000 $]
F. L. Sporter .303 Burnished [40 000 $]

Weight & Stats :
Weight : 3.5
Accuracy : 55
Recoil : 64
Reload Speed : 49
Hipshot : 67
New Ammunitions (With The F. L. Sporter .303)
[
]
.303 British Polymer-Tip Bullet [Cost (10) : 880 $]
.303 British Soft Point Bullet [Cost (10) : 610 $]

Stats for the polymer-tip bullet :
Effective Range : 150.00 m
Penetration : 40.00
Expansion : 12.00
Recommend Animal Classes : 4 - 8
Pictures
[
]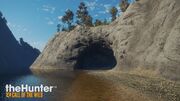 Map
[
]