Yukon Valley is located in the Yukon River Basin in Alaska. The warden of the Reserve is Jim Murray.
Location & Impressions
​​​​
Regions
Huntable Animals
The dazzlingly coloured biomes of Yukon Valley are teeming with equally vibrant wildlife. Catch the Plains Bisons, Caribou and Moose grazing in the soft light of the dawn. Silently stalk Red Foxes and Harlequin Ducks, before they are startled and take flight. Stay out of sight as you track a roaming Grizzly Bear, always wary that it might charge you if it feels threatened. Stick around, and you might even hear a pack of Gray Wolves howl under the glow of the moon.
| Class | 1 | 2 | 3 | 4 | 5 | 6 | 7 | 8 | 9 |
| --- | --- | --- | --- | --- | --- | --- | --- | --- | --- |
| Animals | | | // | // | | | | | |
Flora
Considered one of the most visually stunning places on Earth; the Yukon region sports a series of dramatic landscapes, serving as a backdrop to a rich history. From the lush spruce forests to the red foothills, every corner of this reserve is filled with colour and life. It pays to be wary of the weather though, as the familiar scenery can quickly transform into a blanket of freshly fallen snow. As you trek through the eerie, twisted remains of a burnt forest, the seemingly endless rolling plains and the crisp yellow leaves of the woodlands you can't help but admire the magic that exists out there.
Missions & Measures
Main article: Yukon Valley Missions
Yukon Valley, just like its preceding reserves, will span a massive 25 square miles (64 square kilometers) and it will be your decision whether you decide to simply explore the reserve, carving your own path, or if you pursue the thrilling new story with 10 new narrative missions, and 42 side missions.
Through the knowledge, instincts and hard work of its warden Jim Murray; Yukon Valley's ecosystem and inhabitants have survived under his care. The balance is a delicate one though, and the reserve's fate is uncertain, even with Jim's care. With the permafrost retreating from Alaska, predators beginning to unbalance the delicate natural order, and tree-eating parasites threatening forests recently damaged by a forest fire, Jim is struggling to keep up. It will now fall on you to help him maintain the health and unique, untamed appeal of Yukon Valley.
Theme Song
https://www.youtube.com/watch?v=9yXYNXtlVuY&list=PL9xumIWGzk8T_Af0T_Tdwg0xFIkcOxXGd&index=14
https://www.youtube.com/watch?v=t1vbY9J2-b8&list=PL9xumIWGzk8T_Af0T_Tdwg0xFIkcOxXGd&index=13
Trailer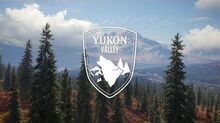 Transcript: After all these years as a warden, I am still impressed by the grit it takes to survive out here. Hunting in the Last Frontier always brings rewards. Without our influence on Alaska's delicate natural balance, life will only get tougher here at Yukon Valley.
You will experience a moment, one that shows why we need not only a hunter but someone who can understand this place, it might be at your first sighting of the Caribou grazing on the Crimson Plains, or during an instant of tranquility as the Valley sleeps under a fresh snowfall... Perhaps it would come while you stalk a Grizzly Bear from the remote spruce forests or during contemplation of the aftermath of an inferno marked by nature itself and as night falls, you might just hear the rowdy locals sing their night songs to the sky. I am sure you will get to meet them, the wolves here are fast, smart and utterly relentless... they don't scare easy either.
It is my great pride to care for this wild remarkable place and to welcome you to Yukon Valley.
Gallery